Social Media 
Facebook - Facebook users  243.58 million users in United States
Facebook is still the #1 social app being used.   Followed by Youtube, WhatsApp, Instagram
Tips to make it easier on your marketing volunteers:
Link Facebook and Instagram accounts for more reach and engagement, easier to use if paying for ads, each of posting once.
Use Meta Business Suite to schedule posts

Planner

Add content and then determine when you want to post it

Meta Business Suite can be used to answer messages, comments

You can set up auto-reply messages in Messenger

Auto-Reply for:

When is your festival?
I'd like to be a vendor.
When is the festival?

Instructions on setting up auto-reply: https://youtu.be/MKl-rvtobKY?si=_GR3yod6M1hVfOvr

Use video when you can

Facebook videos receive 135% more organic engagement than photos
Other Social Media Platforms 
Instagram
X (formerly Twitter)
TikTok
Website 
Website allows you to "own" your content
Website should be mobile friendly.   Why?  Over 55% of website traffic comes from mobile devices. 92.3% of internet users access the internet using a mobile phone.
Add backlinks to other sites (including your partners, sponsors).  Backlinks increase your SEO (Search Engine Optimization)
CANVA 
Create graphics or video.
Connect your account to your Facebook page and then you can post directly from CANVA.
Google
Why Google:
7.9 billion unique individuals live on the planet earth and 4.3 billion of them use Google to find answers on the internet.
Your Google My Business listing shows searchers where and how to visit your business. A Google Business Profile also improves your local SEO. In particular, a listing for a local business is more likely to appear when people search for a nearby business using Google Maps.
How to add or claim your Business Profile on Google
With Google Business Profile, you can:
Create or get access to a Business Profile on Google
Add and manage how your business information shows up across Google
Account is free with a business or personal google account.
How to Claim Your Listing: 
Go to Google.com/business
Log in to your gmail/google account that you want connected to the listing

If you don't have an account, you can sign up for free at accounts.google.com/signup

Find or add your business

It may pull down from the pull down menu if not you will have a chance to enter the business name

Once you've claimed your listing, you will build your business profile

If you have trouble claiming

Building the business profile

Be sure the business name is typed correctly
Choose the category that is closest to your business type

you can actually add up to 9 sub-categories

Since you are a festival, you will want customer foot traffic, so you will want to answer yes to the question "Do you want to add a location customers can visit like a store or office?"
Add your address (this is used for verification purposes)
You can add a service area

Keep in mind that you want to use the super power of the google listing - focused on local, don't add a service area over 100 miles.

Add business contact information
Choose a verification method

Phone
Postcard

Be aware that it doesn't actually look like a postcard.  It will look more like a W2 arriving by mail.
It will include a verification code
Sample of what the listing looks like when searching on Google.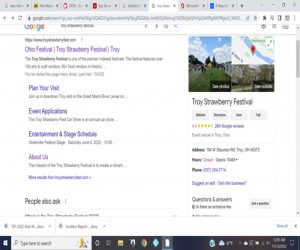 Once your listing is verified, you can manage the profile through menu (nine small squared to the left of the icon) when you are logged into your Google/Gmail account.  Scroll through the menu to find the Business Profile icon.
How to use your listing: 
Include photos
post event(s)
post updates
post hours
link to your website
Tips:
Best practice is to post in a consistent frequency
Use photos with that include visitors enjoying your event
Don't use stock photos
Be aware of the photos that visitors are uploading and tagging to your event

If they aren't photos you like, add some of your own photos

Think about what your visitors will be searching for

directions
hours
additional events throughout your festival

Read and respond to questions
Read and respond to reviews

Comment to all reviews good and bad

Thanks for the great review!
Negative review - sample response "This is not the experience we want for our visitors, I want to protect your privacy, would you please respond to me privately so that we can further discuss the matter"  Be sure to include your email or a cell phone number.
Link to Google Map Example - Troy Strawberry Festival 
Download Claim Your Business Listing Handout.
Other resources:
Ohio Find It Here website

free listing for your event

Community Calendars
Visitors Bureau
Local High School or Career Center
Festival Websites

FestivalNET - Strawberry Festival example listing: https://festivalnet.com/10207/Troy-Ohio/Festivals/Troy-Strawberry-Festival
Contact: 
Kathi Roetter
Troy Strawberry Festival / Troy Chamber of Commerce
937-339-8769
kroetter@troyohiochamber.com