Welcome to Class 4-1 Winter Institute
I am excited for each of you to be part of this class and to finish the week graduating with your IOM.   For many your journey to IOM has been longer than planned and I commend you for choosing to stay the course and wait to graduate at the Winter site.   For others this journey has stayed on track with a change of course at the centennial site to allow you to graduate in 2022.   Others have chosen to come to the Winter site to finish their IOM without delay.   Whatever your journey, you are now part of the 2022 Winter IOM Class 4-1.
The journey over the past two years has been difficult for many and I hope you will find that Institute is a time that we can all come together and embrace the opportunity for networking and learning.
If you need anything during your time at IOM, do not hesitate to reach out to me - 937-573-6477.
Kathi
Class Roster 
Link to the class roster - https://events.uschamberfoundation.org/direct-report/registrant?id=j4P1kd8nFzzMFtIYaDC9SdoCr1JLZANm_1637610424
Communication During IOM 
Facebook Group - IOM Winter Institute Class of 2022 - https://www.facebook.com/groups/1079079395966470 (This group is specific to the group that will be graduating this year)
Group Me - Winter IOM Class 4-1 of 2022 (See Tish Shade for more information)
WIFI 
Network - UAevents
Passord - W!ldc@t$
Silent Auction
Text "newyear" to 843-606-5995 to join the auction.  All payments will be collected via credit card through EventGives.
Download the Institute App:
You can download the on-site app by scanning the code below or by searching for the 'Attendee Mobile' app by Swoogo LLC in the App Store or Google Play.  Enter '2022 Winter Institute' in the search criteria or scan the barcode.
Class Presentations and Handouts:
UPDATE!  Course evaluations can be found under each class within the links below. 
Link to Core Classes - https://institute.uschamber.com/2022-winter-institute-class-4-1/
Link to Electives Group 1 (Thursday, January 8 at 4:15 p.m. MST) - https://institute.uschamber.com/2022-winter-institute-elective-group-one/
Link to Electives Group 2 (Friday, January 7 at 8:00 am MST) - https://institute.uschamber.com/2022-winter-institute-elective-group-two/
Link to Electives Group 3 (Friday, January 7 at 10:30 a.m. MST) - https://institute.uschamber.com/2022-winter-institute-elective-group-three/
Schedule: 
Thursday - Core Classes at 8:00 am / 12:30 pm followed by an elective at 4:15 pm    LUNCH from 11:30 - 12:30 PM
Class dinner at 7:45 pm
Friday - Elective Classes at 8:00 am / 10:30 am followed by Core from 1:30 - 5:00 pm  LUNCH from 12:30 - 1:30 PM
Saturday - Core classes 8:00 am / 12:30 pm followed by GRADUATION!!!  LUNCH from 11:30 - 12:30 PM.
Sunday - Core class 8:00 am.  Institute ends at 11:30 am SAFE TRAVELS HOME!
Class Locations are listed on the photo of the schedule below.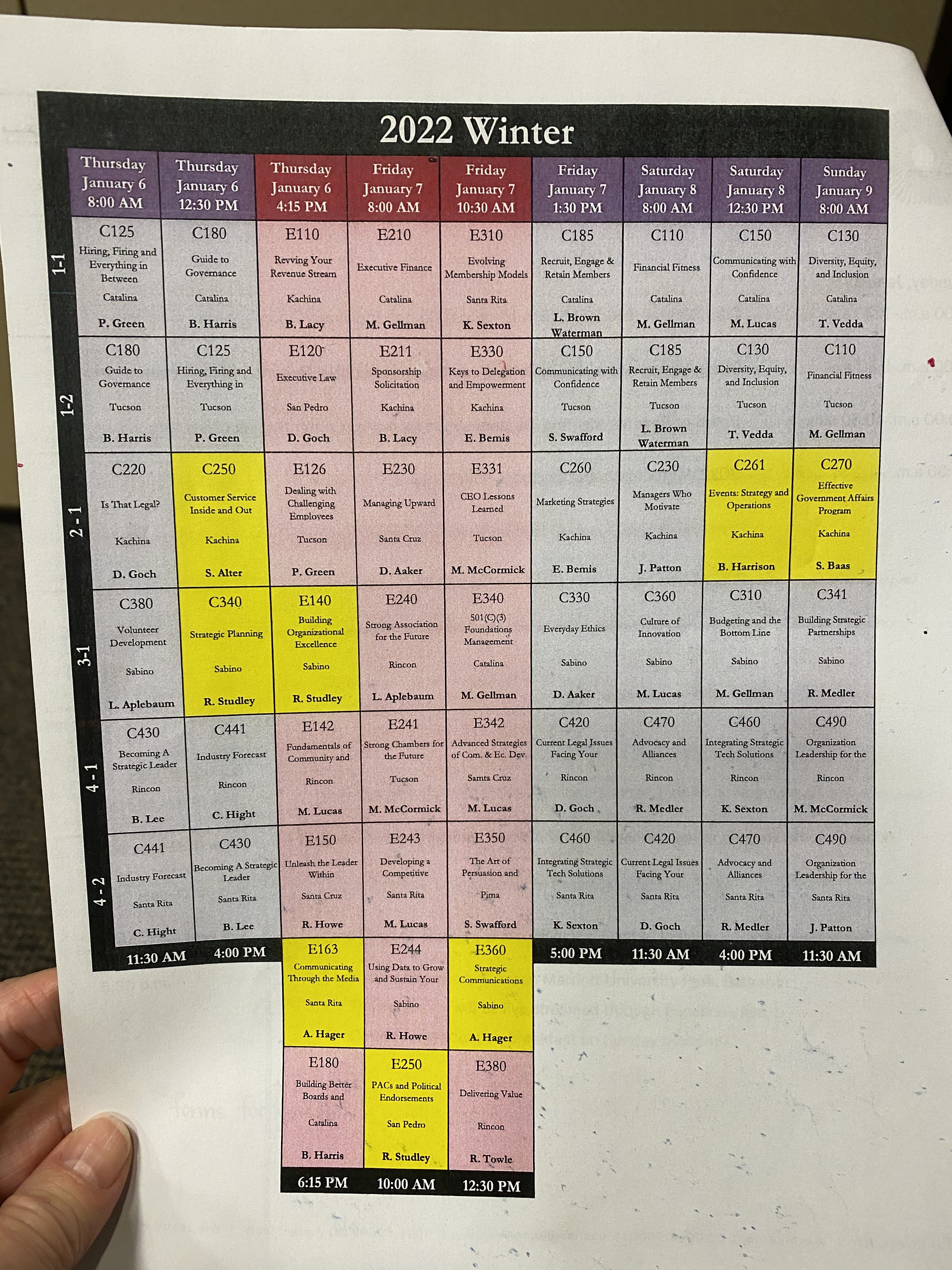 Industry Consultations: 
Sign up using the Google form - https://docs.google.com/forms/d/e/1FAIpQLSfip5anJN-qOFiGlUMl1BY4YAK_Ek5pz6B5Kmv94aHB-wdw4Q/viewform
Graduation:
Graduation will take place on Saturday at 5:30 pm in the Pima Ballroom at the Marriot Hotel.
The class will line up in alphabetical order in the hall prior to the event.   We are working to determine when photos will be taken - more to come on this as photos may be taken prior to the ceremony.
If you missed the rehearsal, please check in with Regent Vice Chair Lynn Olberding, as she will be reading your name, organization and city/state.  Please be sure she knows the correct pronunciation.
The ceremony will be shown LIVE on Facebook.  Please encourage your friends, family and collogues to watch and celebrate with you.    Institute for Organization Management Facebook Page
Graduation Guests: 
If you have a guest attending the ceremony (that you've registered with Institute), please let Kathi know.   Guests will have to be vaccinated and fill out the vaccination protocol form.
Graduation Photos: 
We will meet at 4:45 pm for individual graduation photos with Regent Chair, Erin Carter and Board of Trustee Chair, Matt McCormick.  Photos will be outside with masks being optional.
UPDATE! Graduation Celebration: 
The board of regents will be hosting a toast to the class of 2022 in the courtyard outside the ballroom immediately following graduation.   
A graduation celebration dinner has been scheduled for Saturday at 7:30 pm at El Charo (311 N. Court Ave.
Tucson, Arizona 85701)  Let Tara Watkins know if you are attending. 
UPDATE! Graduate Breakfast: 
Please join the Board of Regents for a special breakfast in your honor on Sunday morning.  7-7:45 am in the Canyon ballroom- at the Marriott.   This is a come as you are, drop in as you like breakfast.  You do not have to be there the entire time.