US Chamber Advice for Small Businesses This Holiday Season
A new report from Intuit Quickbooks  shows a unique opportunity for small businesses during Small Business Season. Based on survey results from 5,500 consumers and 1,500 businesses, consumers are planning to spend "over 40% of their holiday shopping budget at small businesses" — an estimated total of $88 billion! Because of this, the US Chamber suggests, "it's the perfect time for small businesses to lean heavily into their holiday marketing campaigns and possibly even launch a new product in time for the season of giving. With heightened inflation and supply chain challenges, ensure your business is considering affordable shipping options, providing efficient customer service, and selling products on multiple channels."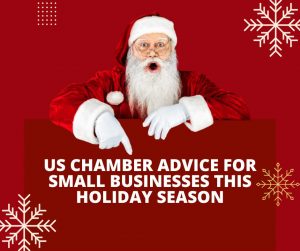 Affordable Shipping Options
The psychology behind free shipping is undeniable and, at times, illogical. But most online shoppers would prefer to spend a little more on your product (or buy more products) to get free shipping. That's why so many businesses offer free shipping with a minimum spend. It's also why many consumers purchase from larger internet retailers. They assume small businesses' shipping options will be more expensive.
Look for ways to cut costs on shipping and pass those along to your customers. If possible, offer free shipping with a minimum spend even if it means slightly increasing the cost of your products to cover it. A customer would much rather pay for an item than pay to ship it.
Efficient Customer Service
Dealing with customer service at a large online retailer can be frustrating. Small businesses, on the other hand, make this easy. Just bring in the item and speak with a human.
Reevaluate your customer service and make sure the process is easy and smooth and your buyers know what to expect. You can also improve your customer service by allowing messaging on your business Facebook page. That way people can get in touch with you easily. You may also consider running customer service through other social media platforms where your audience may be.
Multi-channel Marketing
Multi-channel marketing is a pronged approach to increasing revenue and sales. If you've ever heard the phrase don't put all your eggs in one basket, then you know the idea behind multi-channel marketing. Most people are on multiple devices and sites throughout the day. Any marketer will tell you for a buyer to be moved by effective marketing they need to see multiple touchpoints (as many as seven) from you. That's one of the reasons why Google and Facebook ads are so effective. They show visitors/users those ads multiple times. But seeing ads on one platform isn't nearly as effective as using multiple ways to connect to your ideal customer.
During Small Business Season and throughout the year an effective marketing campaign calls for a combination of paid, free, digital, and traditional channels.
This small business season you should consider using:
ads on social media
postcards
ads on other respected sites such as the Chamber of Commerce
participation in a shop local program like Small Business Season
Reviews posted to your website or shared via social media
a newsletter or e-mail campaign to drive sales
video
content marketing on your website
Each of your ideal customers favors different ways of interacting with you. For instance, some people love to read helpful blog posts and resources from you on your products or services, while others can be coaxed into purchasing through entertaining videos. A multi-channel marketing campaign is successful because it not only helps you reach people in the way that they want to enjoy your information but also helps them see you more. That's how they get to know you in order to buy from you.
Christina Metcalf is a writer/ghostwriter who believes in the power of story. She works with small businesses, chambers of commerce, and business professionals who want to make an impression and grow a loyal customer/member base. She loves road trips, hates exclamation points, and believes the world would be a better place if we all had our own theme song that played when we entered the room. What would yours be?
_______________________________________
Twitter: @christinagsmith
Facebook: @tellyourstorygetemtalking
LinkedIn: @christinagsmith